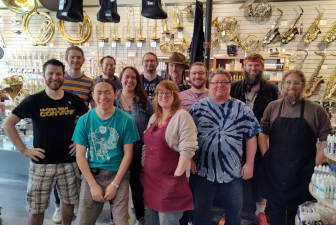 Our Story
Bellingham Wind Works has a history in Bellingham and the surrounding area for providing the highest quality wind instrument and string repair. We regularly receive and repair instruments from all over the country, specializing in double reeds and saxophones. Our string technician has more than 35 years establishing a great reputation in the Northwest. With five highly-trained brass and woodwind repair techs and an experienced string tech, we have established a solid reputation for quick turnarounds and friendly, knowledgeable service.
Our goal is to offer services that aren't being fully met to the musicians, teachers and students of Whatcom and Skagit Counties. In 2011, with the closing of several local music stores, we noticed that few shops carried the level of wind accessories we know players and educators need. In December 2012 we expanded our business to include accessories for brass and woodwinds, including professional-level reeds and mouthpieces, as well as a full array of wind player needs.
Likewise, Bellingham and the surrounding areas lack sufficient quantities and selection of rental horns. In 2013, we began to rent out woodwinds, brass and basic percussion, and in 2015, began to offer orchestral strings as well as the less common rental instruments.
Our goal is to continue to provide for the musical needs of our community and make face-to-face connections with musicians of all ages and abilities.